Vehicles Collected From All Garda Stations & Pounds
Vintage, Classic, Modified, Damaged Cars
Towing Service Fuel Delivery Nationwide & Battery Jump Start.
Friendly, efficient & reliable service throughout Ireland
We provide a range of services that include: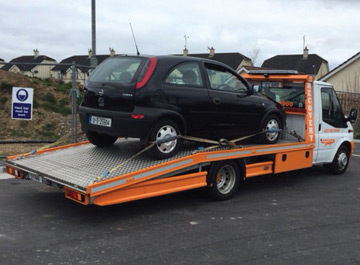 24/7 Recovery Service
Towing Service Fuel Delivery Nationwide & Battery Jump Start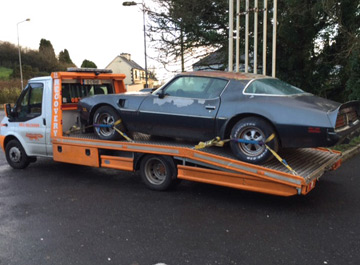 Nationwide Delivery Service
Vehicles Collected From All Garda Stations & Pounds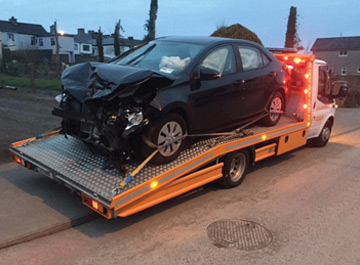 All Vehicles Catered For
Vintage, Classic, Modified, Damaged Cars
Vehicle Breakdown?
Here's what to do:
If your car, tow van, tow truck or any other vehicle breaks down in Ballina Mayo, you will need, you will need breakdown assistance Ballina Mayo service. No matter if you need Car Recovery Ballina Mayo services, or any other vehicle recovery truck Ballina Mayo services, we will break down several tips about what to do in a vehicle breakdown on the road or near your home.
Prevention Tips
Always be ready
Yes, car breakdowns can happen to anyone, so, regularly perform safety checks to reduce the risk of breaking down. Here are several examples: check your tire pressures and examine the treads to make sure that the tires and the spare are ok. Additionally, see the lights and indicators are working. Another parameter are the oil and water levels, they need to be on appropriate levels. The screenwash also needs to be checked, in case of severe rain.
Also check the water and if you plan to transfer any type of animals examine their collars and see if they are standard and working.
Be smart in terms of charging
Your smartphone always needs to be fully charged. Thus, never leave the house if your smartphone is not fully charged. Additionally, there are car chargers that can help you to always charge your phone, and there are also portable chargers. Additionally, having an app that will share the exact location is also a great option, extremely useful in a breakdown emergency.
Check the car equipment
All car equipment that is included in the car list and the recommendation list must be present! Don't leave the house if you are not fully equipped.
Carefully check the breakdown recovery policy
Read through your breakdown recovery policy and contact your insurance company if you have any questions about it.
Vehicle Break down – Motorways situation
Note that the motorways in Ballina Mayo are the most hazardous places to break down. But, if you want to quickly and safely recover, there are some things you must do before you call our Towing and recovery Ballina Mayo Connacht. You should know that vehicle recovery Ballina Mayo service is 24/7 and we will get there fast, but you must follow these instructions first.
Try to stop as far as left as possible in the hard shoulder. Also, the wheels must be turned to that side!
Your lights for hazardous situations must be on. If there is a fog or severe storm also turn your sidelights on
If you are unable to get to the hard shoulder, then turn on your hazard warning lights as soon as you can. This is done to warn the vehicles behind you. Then call Tow truck Ballina Mayo services to assist you accordingly
No matter the emergency, you need to leave the car and stand out the barrier and wait for the Towing and recovery Ballina Mayo Connacht service to come and help you with your vehicle. Wait away from the carriageway, like for example on the grass verge on the side of the freeway.
Important: Do not stand behind or next to the car or truck.
If you have any animals with you, leave them in the car, they can only cause harm if they are outside. If you call our Breakdown recovery Ballina Mayo Connacht service, we will come fast and solve the problem so your animals will not be trapped for too long.
If you have a reflective jacket, wear it so we or any other breakdown service can see you faster.
Don't do repairs on your own, you will make more damage, than good and you will put yourself in danger. We provide jumpstart Ballina Mayo services, call us at +353 83 481 99 00
You may be in situations when you are at risk from another person or animal, in that case return to the car and stay on the left-hand door and lock everything. Remember to go out of the vehicle if the risk is gone.
If you have any type of unwanted disability that prevents you to do the above, then stay in the car, put your seatbelt on. The hazard and the sideline lights must be turned on and you need to call us via your mobile phone.
Lastly, don't perform any type of repair at the motorway, it's best to wait for a professional towing service that will take the vehicle to a repair service on an appropriate location. After calling a Breakdown recovery Ballina Mayo Connacht service directly or the fleet manager or fleet management company (if required by policy), you should show calmness and patience for the officials from these companies to arrive. Never accept unofficial assistance in Ballina Mayo in the wake of a breakdown.
Your insurance policy matters, so be sure to know whether breakdown assistance is covered in your car insurance or not.
Vehicle Break down – Near the Home Situation
Many times vehicle can breakdown after leaving the house or in the house itself. Although not all advices we mentioned earlier apply, still some of them do. Our Tow van Ballina Mayo can come and serve to homes as well. Simply use our Home call outs Ballina Mayo service for that and we will assist you with our 24/7 service.
How we can help
When you call our Towing van Ballina Mayo service, we come as soon as the location is clear to us. As we offer 24/7 vehicle breakdown assistance Ballina Mayo services, we are sure we'll be more than ready to assist you accordingly. Our towing truck Ballina Mayo are well equipped and modern and are controlled by skilled and experienced drivers that will surely tackle any problems. The great thing is that we can recover any car type with our recovery truck Ballina Mayo.
We can help anyone in Ballina Mayo, but we also offer nationwide service. No matter if your vehicle is vintage, classic, modified or damaged, we can transfer. Our 24/7 recovery service is one of the best towing service in the country.